For Behavioral Health and Wellbeing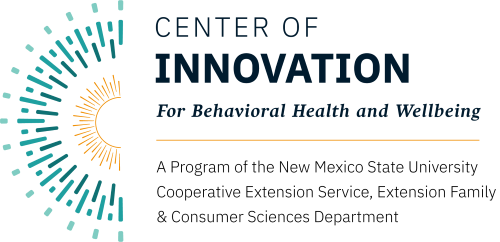 About Us
The Center of Innovation for Behavioral Health and Wellbeing is an externally and self-funded program housed in the Extension Family and Consumer Sciences Department. Through collaborative partnerships with the State of New Mexico including the Children, Youth and Families Department, Behavioral Health Services (CYFD), the Behavioral Health Services Division of the Human Services Department (BHSD), and the Administrative Office of the Courts, the Center of Innovation works to strengthen and support the behavioral health system of New Mexico. Visit the Center of Innovation Website for more information and access to all our program offerings.
Our Mission
Improve child, youth and family wellbeing and resilience in New Mexico by promoting a high-quality behavioral health system to create an accessible, effective, and responsive network of support.
Core Values
We believe that children and families deserve the best possible chance to live out their hopes and dreams and that it is our responsibility as professionals working in the system to provide a safe and equitable pathway for them to do so. An effective and integrated system of care is one that places the value of human dignity at its center.
Service Areas
The Center provides training and program implementation support to community providers and state agencies with a focus on the following service areas:
Strategic Planning and Project Management within a Continuous Quality Improvement Framework
Innovative Program Design and Implementation
Evidence-Based Practice and High-Fidelity Program Implementation
Behavioral Health Workforce Training and Certification
Training Curriculum Development, Delivery and Evaluation
Conference Planning and Event Coordination
Federal Grant Implementation and Management
The Center provides ongoing training opportunities for behavioral health clinicians, wraparound facilitators, social workers, advocates, peer support workers and community members including extension professionals.
Visit the Center of Innovation Website for more information and access to all our program offerings.
---
Director: Brooke Stanley Tou, MPH, LMSW
Phone: 575-646-6322
Email: bastou@nmsu.edu
Visit the Staff Page for a full list of Center of Innovation Personnel